Webinar on Prevention of Sexual Harassment At Workplace
Conducted By
NOIDA INTERNATIONAL UNIVERSITY(School of Law & Legal Affairs)
In Association with
Adv. Bindu Dubey & Associates
What Will The Webinar Cover?
#MeToo is a famous campaign and hope you know the reasons for it. Are you worried about this situation in your office? Not sure where to start? Need more detail on POSH Act or an Internal Complaints Committee (ICC) and Local Committee (LC)?
Join the FREE Seminar for the session and discussion on Sexual Harassment of Women at Workplace (Prevention, Prohibition and Redressal) Act, 2013 (POSH Law).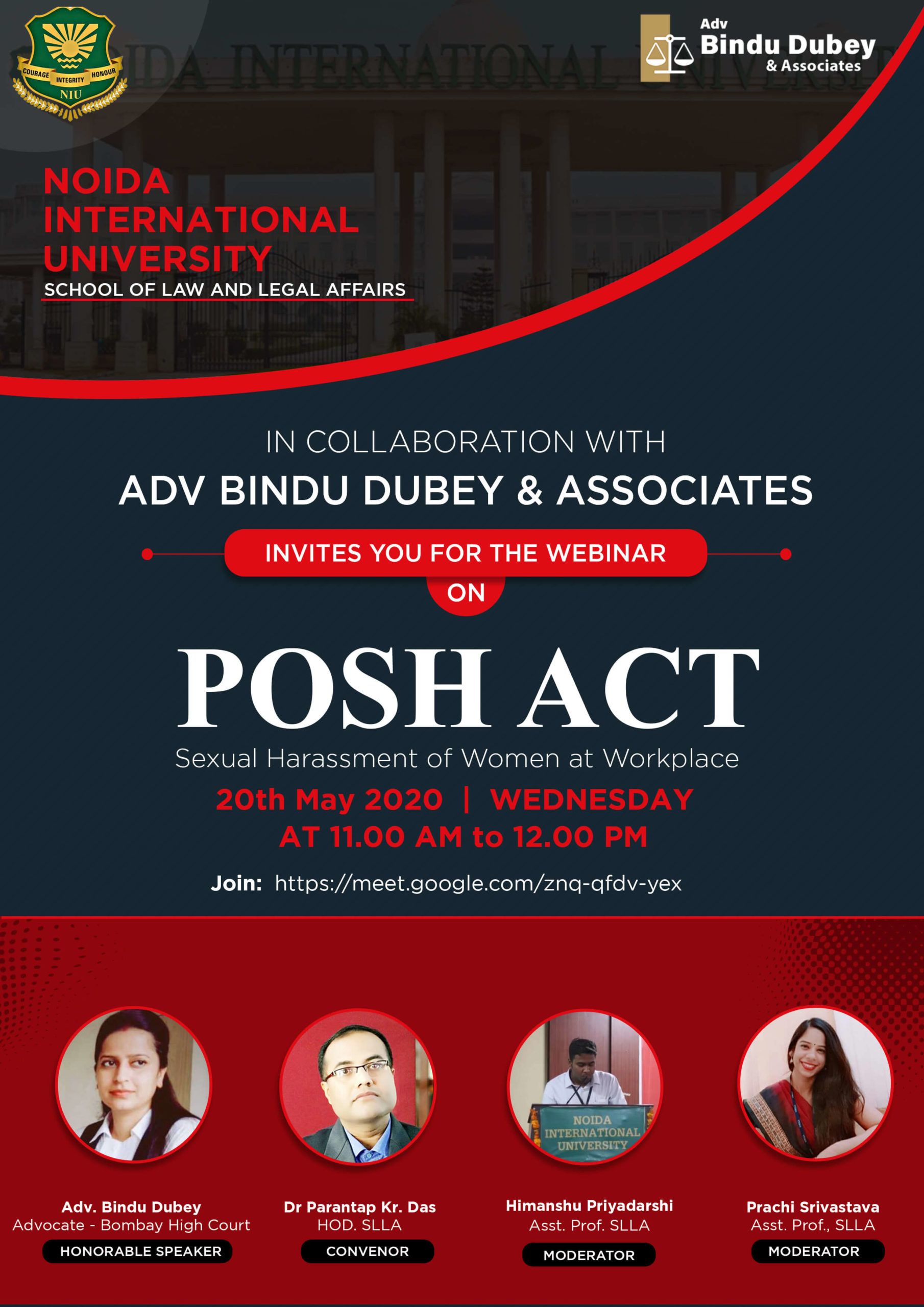 Founders, CEO, CXO, Entrepreneurs
Directors & Promoters
HR Personnel& Employees
Students
Understand the law in India on Prevention of Sexual Harassment at Workplace
Understand the Policy for Prevention of Sexual Harassment at Workplace
Importance and Constitution of Internal Complaints Committee
Understand the rights of both the sides
Adv. Bindu Dubey & Associates handles the cases across High Courts and Session courts of Mumbai, and Allahabad. Adv Bindu Dubey has done B.Sc. MBA and LLB. Has a diversified background, started her career in the corporate world with 10 years of experience. She regularly advises on laws relating to the prevention of sexual harassment at the workplace. She also regularly conducts sensitization training programs for employees at companies and training programs for ICC members on how to stay compliant with POSH Law and handle complaints addressed to the ICC.
Practicing lawyer:Criminal, Corporate, Civil and Family matters
Corporate Trainer: Imparting training on Labour Laws, POSH Act, etc
Visiting Faculty: Delivering LAW subjects for MBA, BBA LLB, & BA LLB studentsat Narsee Monjee (NMIMS)